For concert bookings call:
Paul Heckert (845) 424-4857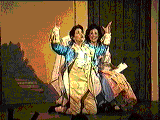 (Julianne as Cherubino)
Julianne Endler Heckert began her professional journey with the touring company of EVITA under the direction of Harold Prince.

Since living in New York City Ms. Heckert has appeared as Malika in Theodore Sieh Opera Company's "Lakme", Charlotte in New York Opera Forum's "Werther", Cherubino in Opera Festival Di Roma's "The Marriage of Figaro", in Rome, Italy. Most recently with Bay Shore Lyric Opera Ms Heckert received fabulous reviews, again for the role of Cherubino:

The Santa Clara Vision said: "Julianne Heckert's mezzo is a supple, flowing instrument that should be listened to. . . she demonstrates a particular flair for the oft-ignored details...She has so much fun with Cherubino's endless stream of antics that you might forget to listen to her singing. Don't make that mistake!" The Santa Cruz Sentinel said ". . . a sublime combination of soprano voices. . . a connoisseur's delight! Mozart's manifold two, three and more voice ensembles create many an opportunity to hear Jennifer Der Torosian's glorious spinto, Christine Matovich's crystal-clear lyric soprano and Julianne Heckert's supple mezzo-soprano flying in and around each other. . .Julianne Heckert's Lucille Ball eye dances as the ne'er do-well pageboy Cherubino, create a broad vocabulary of comic possibilities.
Click here to see a "Slide show of high quality pictures from last season's Art Song Recitals.

In addition, Ms. Heckert has performed in the Teatro Caio Melisso in Spoleto Vocal Arts Symposia of Spoleto, Italy. She continues to develop the "trouser roles" of Octavian and the Komponist in Strauss' "Der Rosenkavalier" and "Ariadne auf Naxos". and Nicklausse in Offenbach's "Les Contes d'Hoffmann". Other roles include contrasting Cinderellas as Rosina in Rossini's "Cenerentola" and Angelina in Massenet's "Cendrillon"

Most recently Ms. Heckert, with her husband Paul Robert Heckert at piano, have completed the first season of their "Art Songs & Arias" Recital Series. They look forward to this season's premiere concert featuring the music of Paul Robert Heckert. They perform in period costume taking their inspiration from the songs in their program and translating it into a visual bridge to another time.

Ms. Heckert has served as Membership Chairperson on the Executive Committee of the Board of Directors for the Collegiate Chorale, a 150 member chorus under the direction of Robert Bass. It is one of the oldest and most prestigious chorale groups in the country. They appear at Carnegie Hall twice yearly.